Make your
workspace

and

communication digital
Welcome your guests with virtual reception services, engage and interest partners, customers, and employees with fascinating and useful communications through the digital signage. 
Create a family around your organization by spreading your values in new ways.
Transform the environments in digital workspaces, share values and involve employees in the company life with live streaming events, and synchronize all digital contents thanks to a centralized management console.
Enterprise signage circuit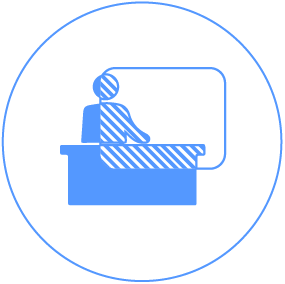 Info-kiosks and digital showcase
The key for the corporate awareness
A TAILORED SHOW FOR YOUR BUSINESS AREAS
If you are interested in the company awareness growth, take advantage of XuniPlay Dooh and create interactive shows to entertain your associates: configure peculiar layouts and contents and mix them for extraordinary results.
Touch monitors let your employees and guests interact with the creativity you upload.
A CUSTOMIZED WELCOME FOR YOUR GUESTS
With XuniPlay Dooh installed on touch monitors and interactive kiosks, you can show customized layouts to create engagement. Thanks to external inputs (NFC badge, digital bracelets, electric buttons), you can send specific messages and your audience can interact with the creativity in real-time.
Ambient Control is the feature that manages the home automation system (lights, curtains, smart tv, …) for effective results.
XuniPlay products are natively integrated with Workhera, the set of products dedicated to the digital transformation.
Convert the spaces of your company, make them digital and innovative. Workhera Meet and Workhera Welcome resolve the complexities related to meeting organization, room booking, meeting room use, device management and more.
Your organization can become a smart environment. Start from the physical spaces and reinvent the mental approach.
Tell your
value

digitally
Siemens Hackathon Days
Spread

your brand with images
FCA Group
Discover more
Success Cases